Cricket is one of the most popular sports in India, with a rich history and a large following across the country. Cricket in India is more than just a game; it is a religion. People from all backgrounds love watching this ancient sport, creating an incredible fervor for it among players and spectators alike – creating demand for massive stadiums to host these match-ups.
As a result, India boasts many international cricket stadiums which have made history. In this article, I will provide an overview of the cricket stadiums in India, their locations, and their capacities.
Overview of Cricket Stadium in India
India is home to a large number of cricket stadiums, ranging from small local grounds to large international venues. These stadiums are spread across the country, reflecting the popularity of cricket in all regions of India. The Board of Control for Cricket in India (BCCI) is the governing body of cricket in India, and it manages most of the major cricket stadiums in the country.
Here is a list of some of the major cricket stadiums in India, along with their locations and capacities:
| Stadium Name | Location | Capacity |
| --- | --- | --- |
| Eden Gardens | Kolkata, West Bengal | 66,000 |
| Wankhede Stadium | Mumbai, Maharashtra | 33,108 |
| M. A. Chidambaram Stadium | Chennai, Tamil Nadu | 50,000 |
| Rajiv Gandhi International Cricket Stadium | Hyderabad, Telangana | 55,000 |
| Feroz Shah Kotla Ground | New Delhi | 55,000 |
| M. Chinnaswamy Stadium | Bangalore, Karnataka | 40,000 |
| Narendra Modi Stadium | Ahmedabad, Gujarat | 132,000 |
| Greenfield International Stadium | Thiruvananthapuram, Kerala | 55,000 |
Examples of Cricket Stadium in India
Narendra Modi Stadium, Ahmedabad
Narendra Modi Stadium is one of the largest cricket stadiums in India, with a seating capacity of 132,000. Narendra Modi Stadium was masterfully designed by acclaimed architect Santiago Calatrava. Owned by Gujarat Cricket Association and previously known as Motera Stadium.
A unique feature is its portal frame which provides 360 degree viewing of the pitch allowing spectators to watch every ball that comes off it and makes watching every bowl seem less tedious. Lower and upper bowl seating capacity respectively are 55,000. In addition, two massive pedestrian staircases allow fast access between street level and podium level of this impressive venue.
The Narendra Modi Stadium in Ahmedabad is an international cricket ground that hosts international matches. The stadium has witnessed many significant moments in Indian cricket history, such as Sunil Gavaskar becoming the first cricketer ever to amass 10,000 test runs at it in 1987, or Kapil Dev breaking Sir Richard Hadlee's record of 431 test wickets at it in 1994. Additionally, several matches during ICC Cricket World Cups and ODIs were hosted there as well.
In 2015, Motera Stadium was renamed in honor of Prime Minister Narendra Modi and rebuilt to include modern facilities and an increased seating capacity. The stadium was reopened in 2020, with a state-of-the-art design and facilities. There are three entry points now instead of just one and it connects directly to a metro station for easy transport; additionally it boasts four dressing rooms so back-to-back matches can take place on one day.
This multi-functional arena serves as both a sports facility and concert venue, hosting sports such as football and concerts alike. In addition, it also houses an academy offering courses such as football, hockey, basketball, boxing and kabaddi. Designed in a circular shape for maximum spectator visibility of the playing surface from any seat within its confines, all spectators at any part of the stadium enjoy unobstructed views of their field of play.
Also Read : Biggest Cricket Stadium in India: A Look at Narendra Modi Stadium
Eden Gardens, Kolkata
Eden Gardens is one of the oldest and most iconic cricket stadiums in India. It has played host to some of cricket's most memorable moments over its nearly 150-year history. Opening in 1864 and with a capacity of 66,000 seats, Eden Gardens serves as home ground of both Bengal cricket team and Kolkata Knight Riders in Indian Premier League tournament.
Eden Gardens, conveniently situated between Kolkata railway station and Netaji Subhas Chandra Bose International Airport, are easily accessible by bus or metro. Renowned for their hospitality services and variety of events throughout the year, Eden Gardens are easily reachable through both means.
Eden Gardens is known for its spin-friendly pitch and has hosted many high-scoring games over its history, such as India's 1996 ODI World Cup semi-final against Sri Lanka at Eden Gardens which remains one of the most iconic cricket matches ever seen in world cricket history.
Eden Gardens will always be remembered for India's victory against England in 1962, which marked their first-ever test win against them and marked a turning point in Indian cricket's development. It marked an exciting era ahead.
Eden Gardens holds many fond memories for India cricket fans, including their record 657-7 victory against Australia in March 2001 – making history by creating the highest team total ever scored at this venue. This is in addition to the final of the 1987 Cricket World Cup and the 2016 ICC World Twenty20 final.
IS Bindra Stadium, Mohali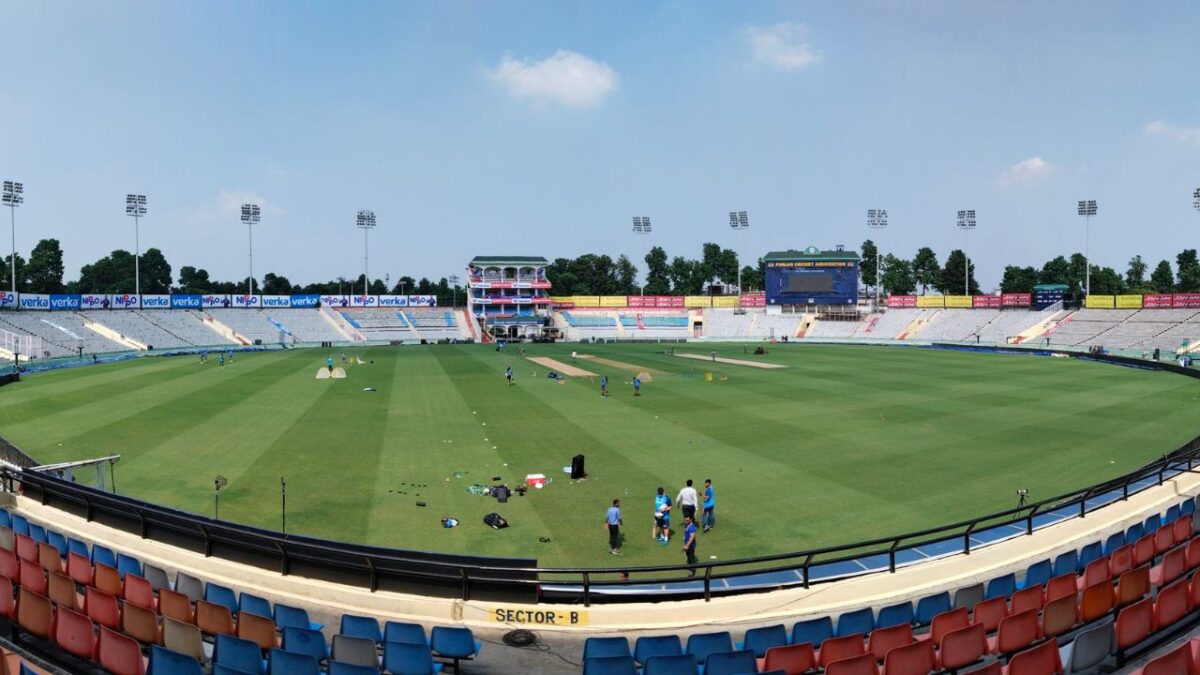 Punjab Cricket Association IS Bindra Stadium in Mohali is one of India's premier cricket stadiums, boasting a capacity of 26,000 and having opened in 1993. Home of both Punjab domestic cricket team and Kings XI Punjab of Indian Premier League; also hosted 1996 ICC World Cup semi-final between Australia and West Indies
Punjab's IPL franchise calls Punjab Stadium home and it has hosted some incredible T20 matches there. Set amid stunning surroundings, its beautiful pitch allows bowlers to perform with its pace and bounce. Formerly considered dangerous due to its speed and bounce characteristics, but has since been modified for high scoring matches.
Construction took three years and cost Rs 25 crore to transform this swampland into an international cricket ground. Renovation will allow it to accommodate both ODIs and Test matches as well as T20 matches – as well as providing more shaded areas and better amenities for spectators. This stadium will soon play host to more high-profile cricket matches.
The venue features a players' pavilion similar to those found at Lords and Wankhede stadiums, providing fans an up-close view of players. Its design aims to be environmentally-friendly; multiple local authorities have approved its design. Furthermore, solar panels have been added on its roof as well as retractable roofing mechanisms.
As well as its state-of-the-art facilities, this stadium is also a favored spot for concerts and football games, boasting spectacular settings with world-class acoustics that create an exceptional aural experience during games and concerts. Furthermore, its advanced drainage system ensures the field remains dry even after heavy rainfall.
Conclusion
India celebrates cricket like no other nation on Earth. No single sport brings more people together than cricket does and therefore India needs giant stadiums to accommodate all its fans and commentators alike. India has a large number of cricket stadiums, reflecting the popularity of the sport across the country.
India boasts several such facilities offering modern facilities and amenities that cater specifically to cricket players and commentators. The major stadiums host a wide range of domestic and international matches throughout the year. As a cricket fan, it is always exciting to watch matches at these iconic stadiums and experience the passion and enthusiasm of the Indian cricket fans.